It's your birthday again and you want some birthday prayers and wishes, messages for your friend, mother, father, son, daughter and more.
Here are birthday prayers for thanking God for another birthday.
Share any of the (religious birthday prayer and blessing family) below and make them feel special.
So, choose from these 100+ Bible Verses for birthday prayers and wishes to have the finest birthday you could ever imagine.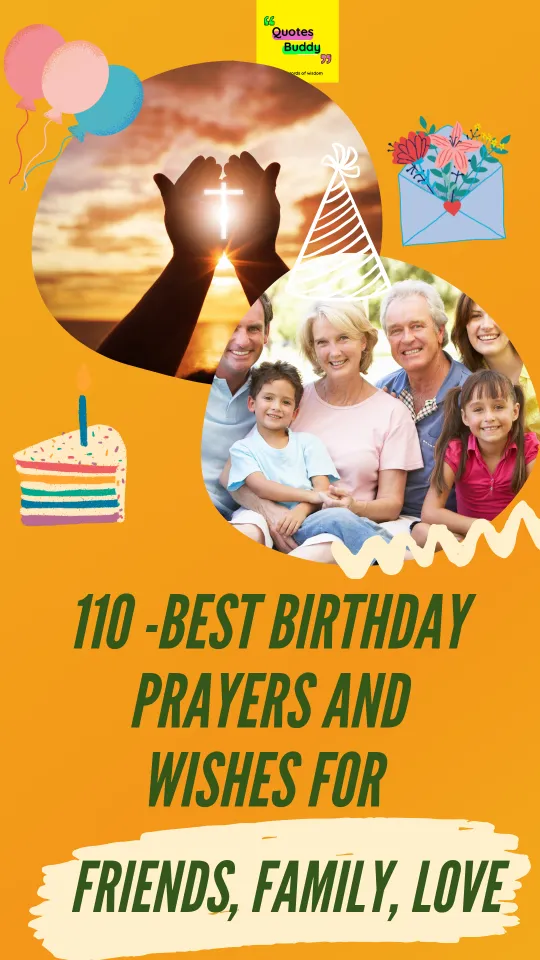 Short birthday prayers
thank you, God, for another birthday of special friend, boyfriend, girlfriend, or family member with one of these short birthday prayers and religious birthday wishes.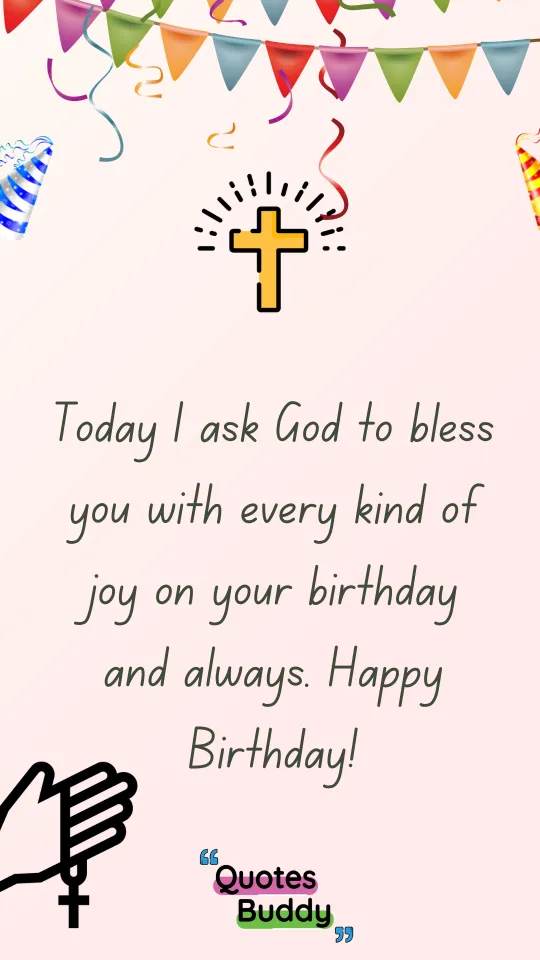 Today I ask God to bless you with every kind of joy on your birthday and always. Happy Birthday!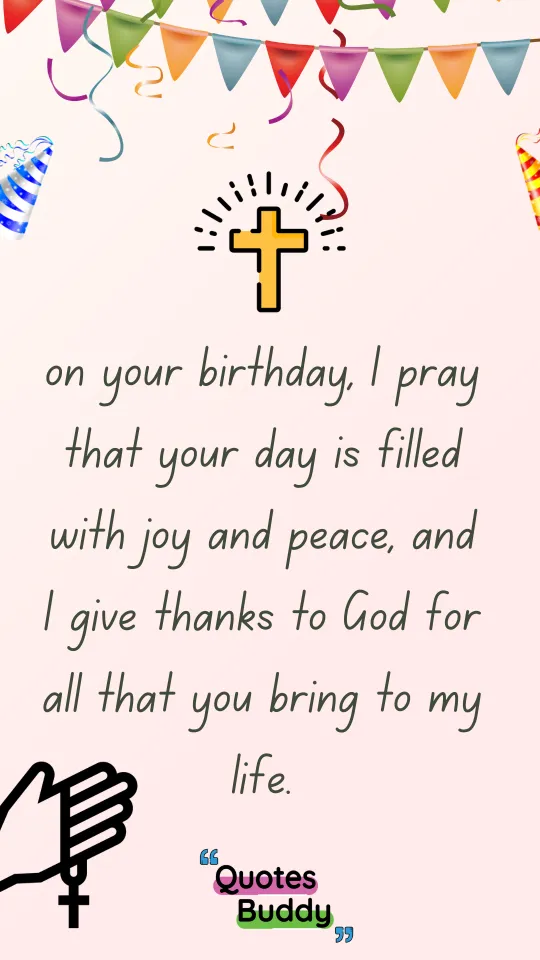 On your birthday, I pray that your day is filled with joy and peace, and I give thanks to God for all that you bring to my life.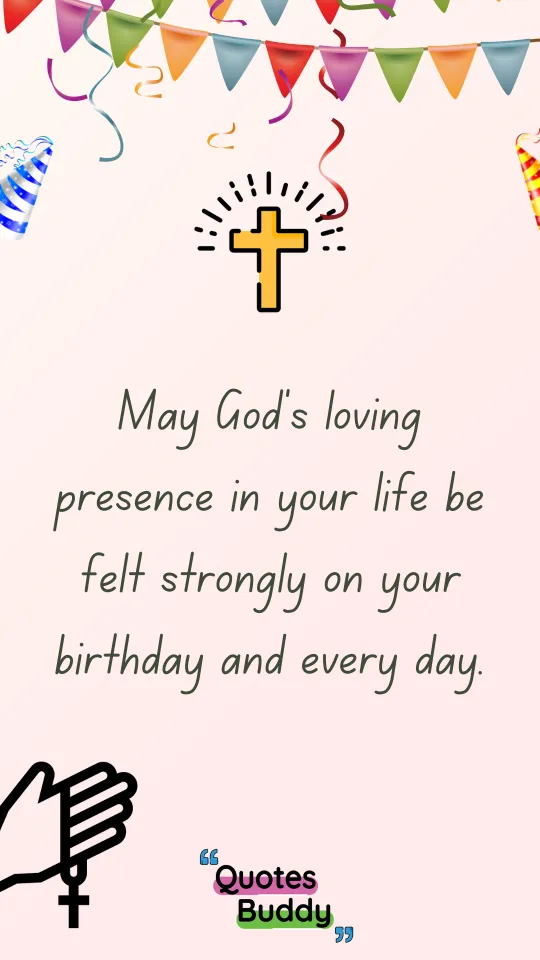 May God's loving presence in your life be felt strongly on your birthday and every day.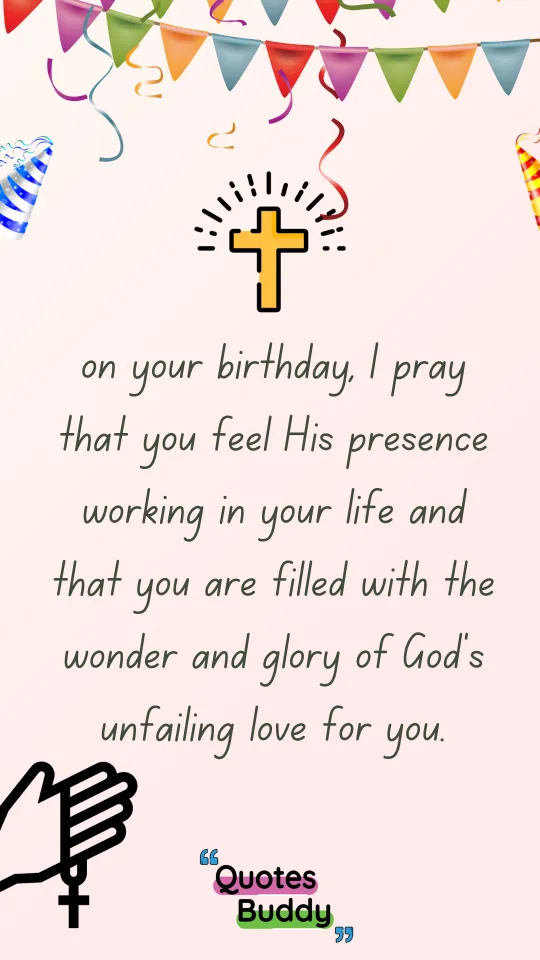 On your birthday, I pray that you feel His presence working in your life and that you are filled with the wonder and glory of God's unfailing love for you.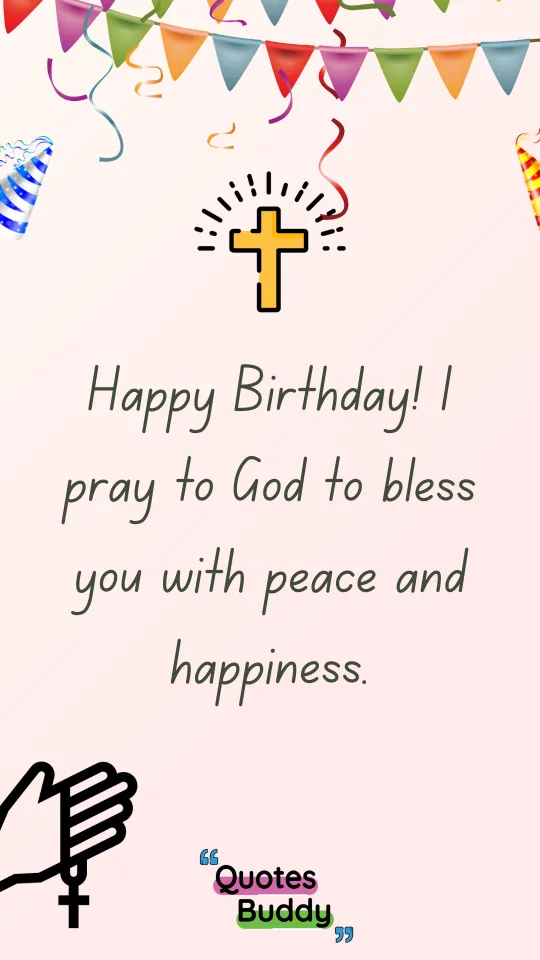 Happy Birthday! I pray to God to bless you with peace and happiness.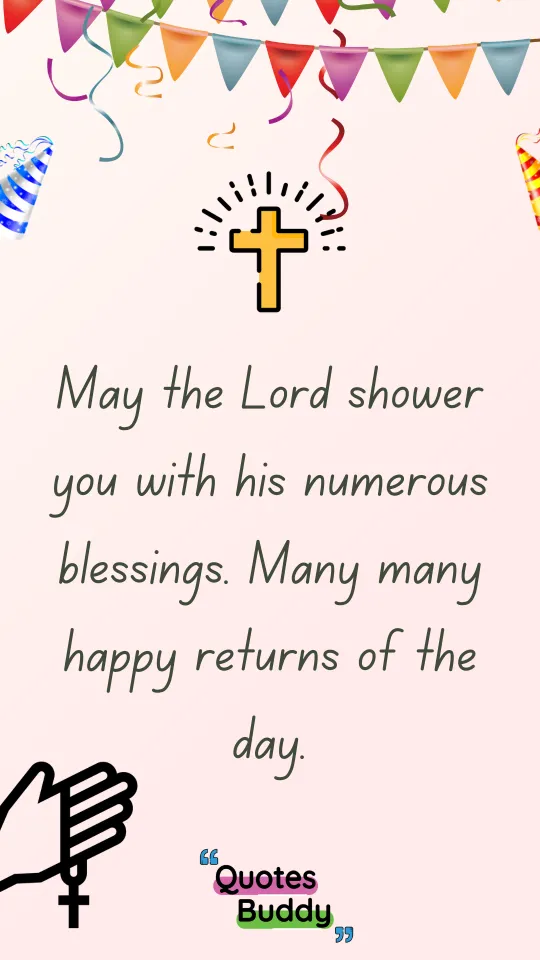 May the Lord shower you with his numerous blessings. Many many happy returns of the day.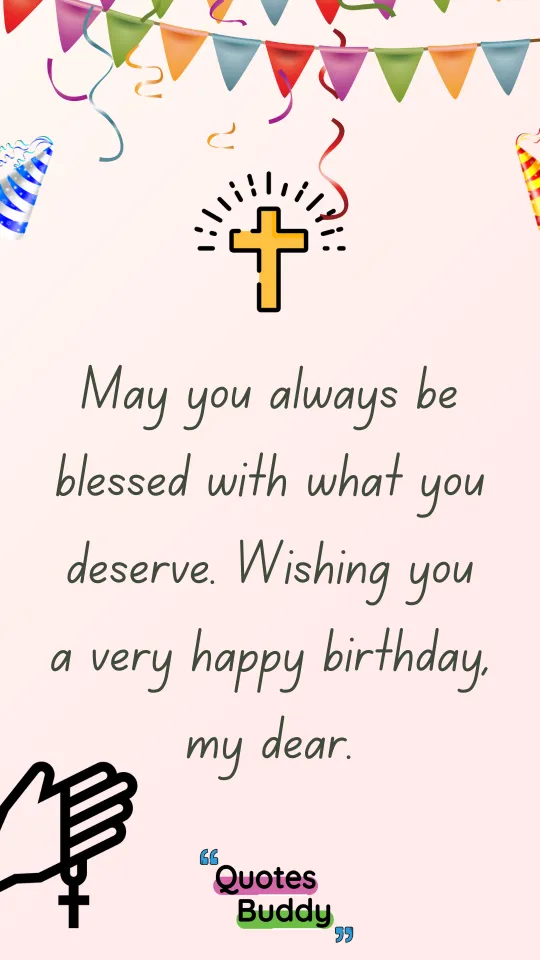 May you always be blessed with what you deserve. Wishing you a very happy birthday, my dear.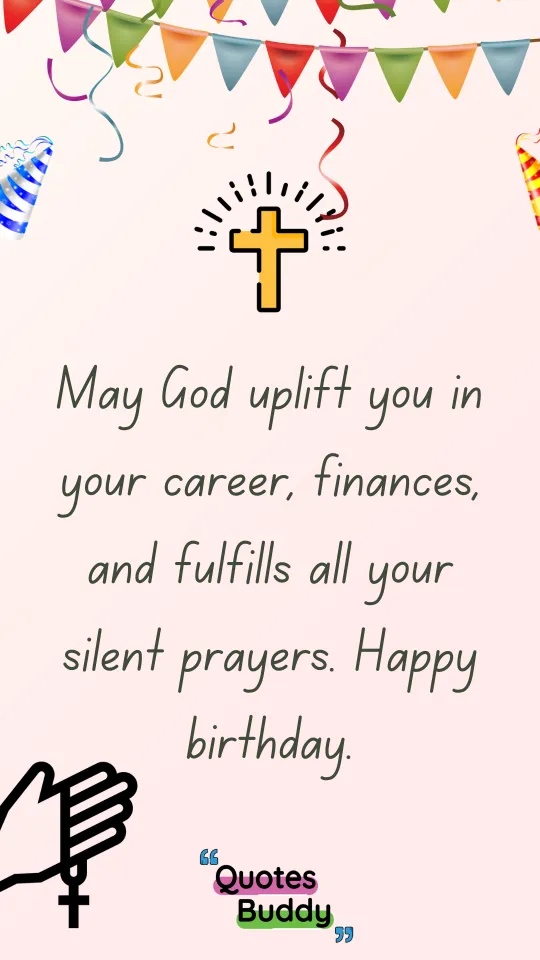 May God uplift you in your career, finances, and fulfills all your silent prayers. Happy birthday.
Every time I look at you, I silently chant a whisper of gratitude to God for having someone like you in my life. Happy birthday, sunshine!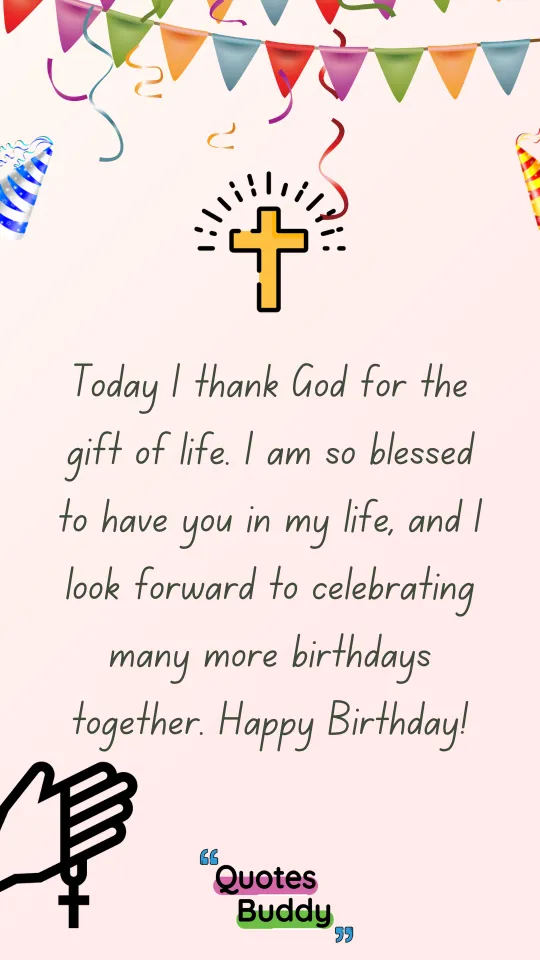 Today I thank God for the gift of life. I am so blessed to have you in my life, and I look forward to celebrating many more birthdays together. Happy Birthday!
Bible Verses for birthday prayers
What's a good Bible verse for a birthday?
Here are 10 best prayers for birthday blessing from bible. Use these birthday prayers verses for friend and family.
Birthday prayers from Bible verses are best way to express God blessing, as well as a great opportunity to thank you, God, for another birthday.
biblical encouragement on someone's birthdays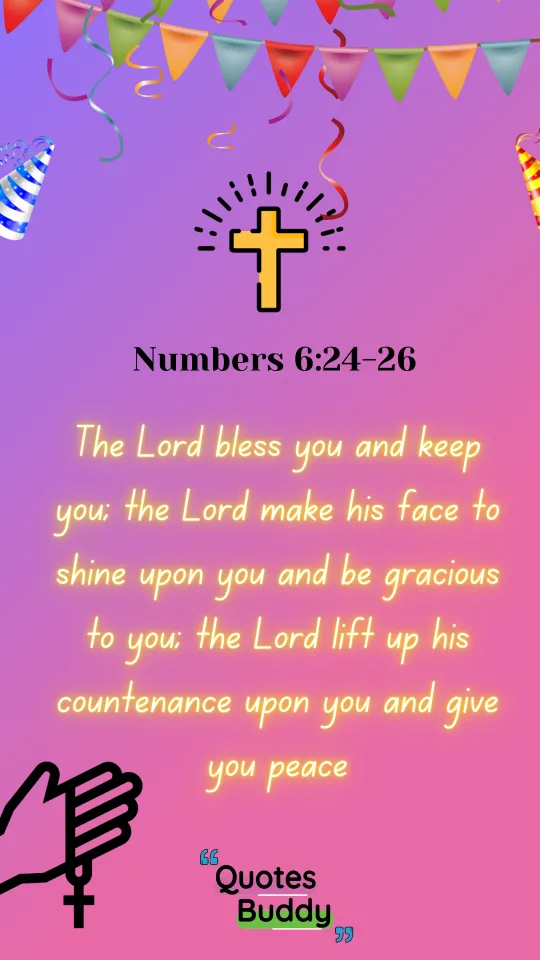 1. Numbers 6:24-26
The Lord bless you and keep you; the Lord make his face to shine upon you and be gracious to you; the Lord lift up his countenance upon you and give you peace.
This verse is about the blessings that we have from the Lord and can remind others of the blessings they receive today and every day.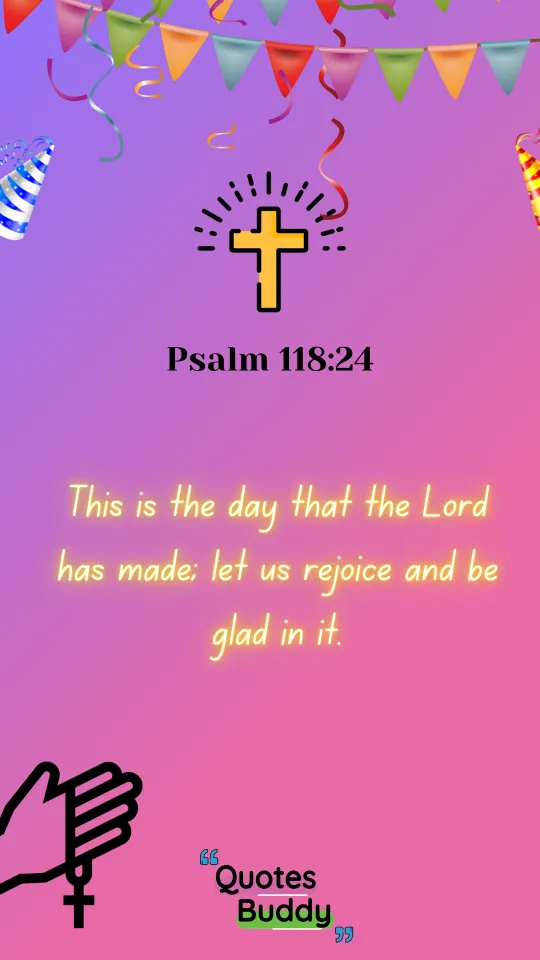 2. Psalm 118:24
This is the day that the Lord has made; let us rejoice and be glad in it.
We are encouraged to rejoice in this verse, which is especially important on someone's birthday.
3. Psalm 37:4
Delight yourself in the Lord, and he will give you the desires of your heart.
When we align our heart with God's heart, God will give us the desires of our heart. As a birthday message, this reminds us that when we are delighted in the Lord we can have confidence that the Lord is working.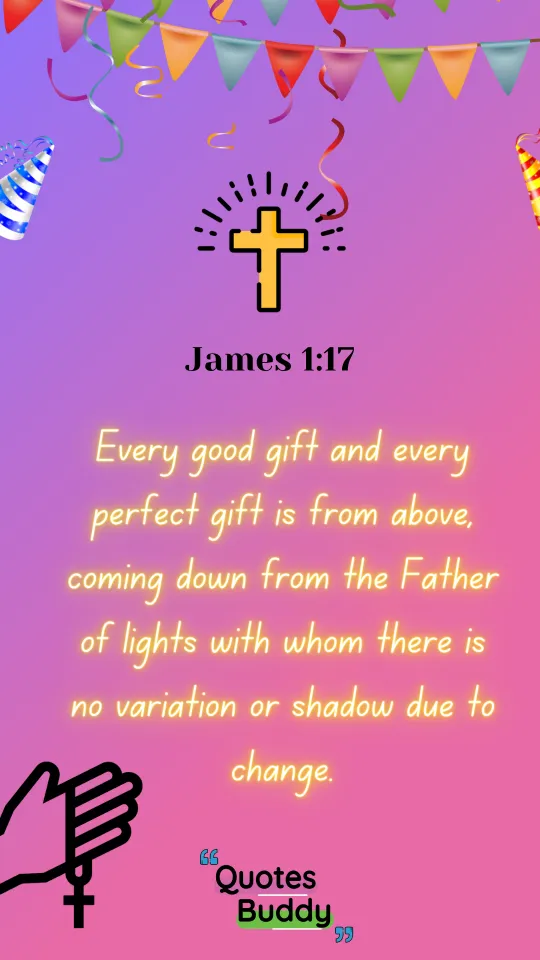 4. James 1:17
Every good gift and every perfect gift is from above, coming down from the Father of lights with whom there is no variation or shadow due to change.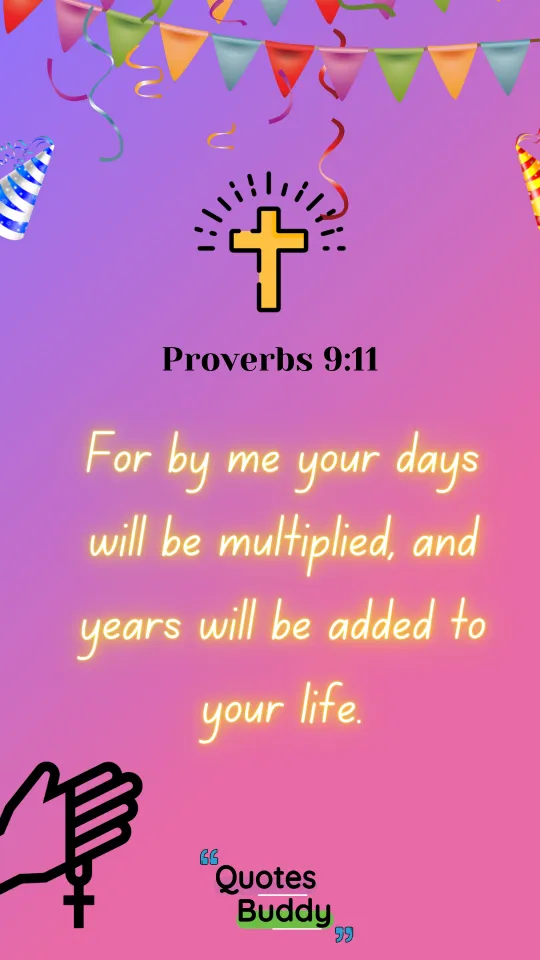 5. Proverbs 9:11
For by me your days will be multiplied, and years will be added to your life.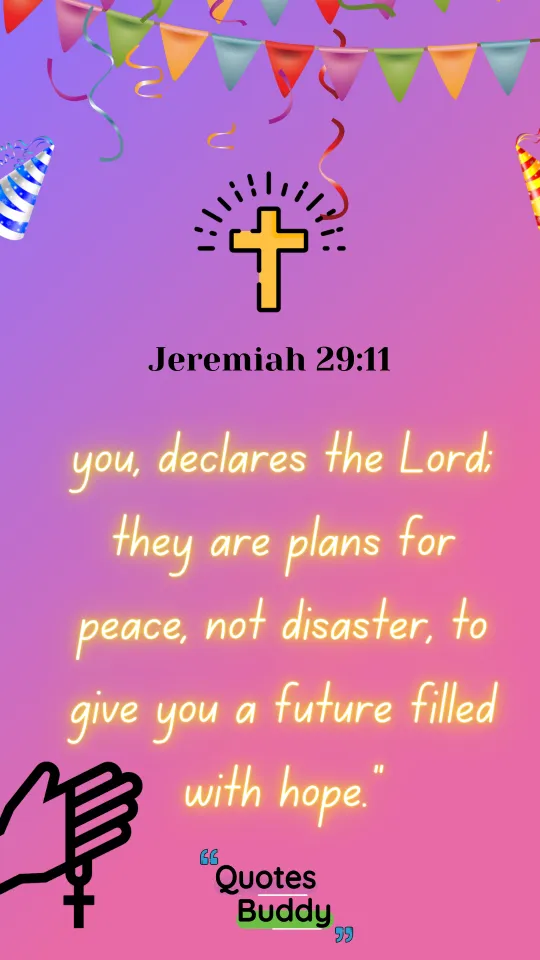 6. Jeremiah 29:11
you, declares the Lord; they are plans for peace, not disaster, to give you a future filled with hope." —
The Good News: No matter what hardships the year may bring, God has a plan for you, and He will help you prosper through difficult situations.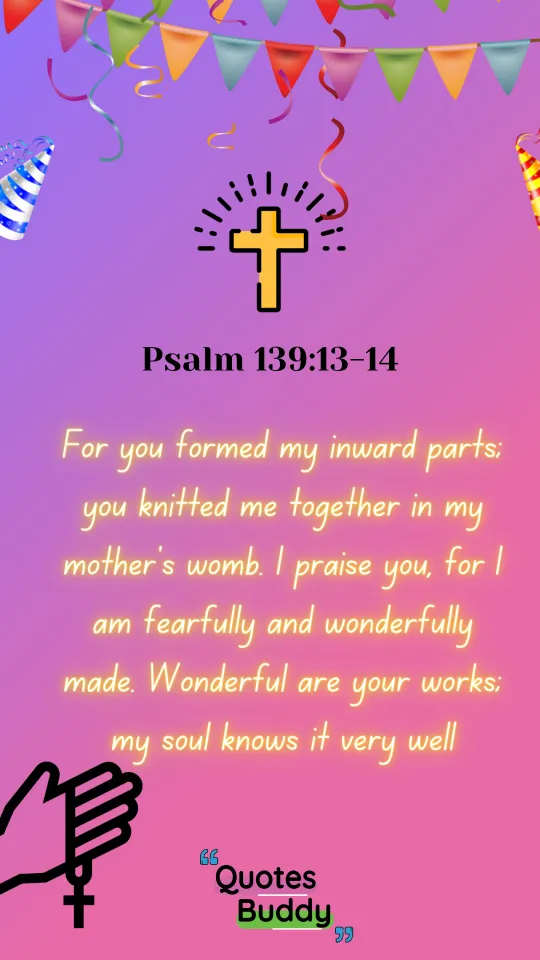 7. Psalm 139:13-14
For you formed my inward parts; you knitted me together in my mother's womb. I praise you, for I am fearfully and wonderfully made. Wonderful are your works; my soul knows it very well.
Birthdays are a time to celebrate life, and this verse celebrates life. We read about how God created us and how he has made us wonderfully. We know that we have life because we are created by God.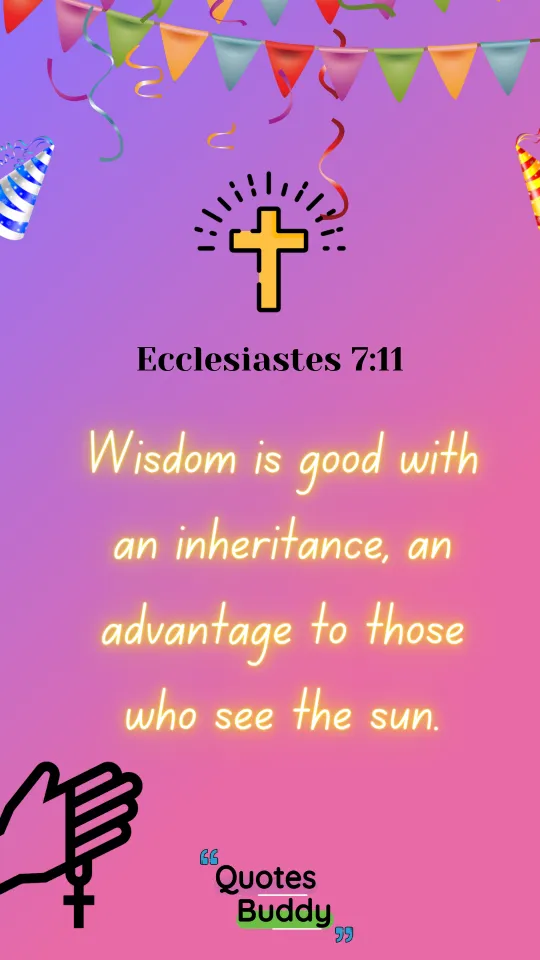 8. Ecclesiastes 7:11
Wisdom is good with an inheritance, an advantage to those who see the sun.
As we grow older, we gain wisdom. We can be grateful as we age knowing that we are learning more and becoming wiser.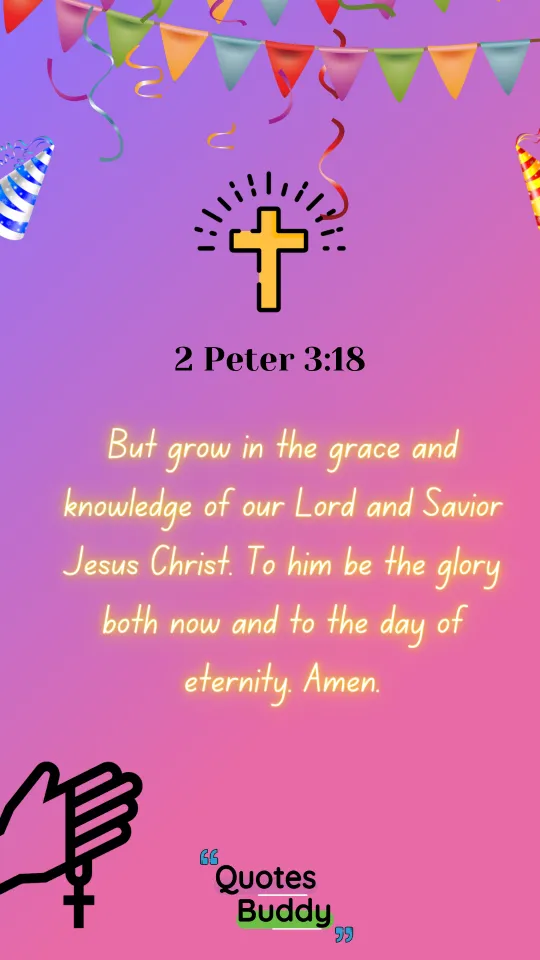 9. 2 Peter 3:18
But grow in the grace and knowledge of our Lord and Savior Jesus Christ. To him be the glory both now and to the day of eternity. Amen.
We should seek to know God more and become more like Christ. Every birthday can be a time to dedicate yourselves to grow in the grace and knowledge of Christ and bring Him more glory.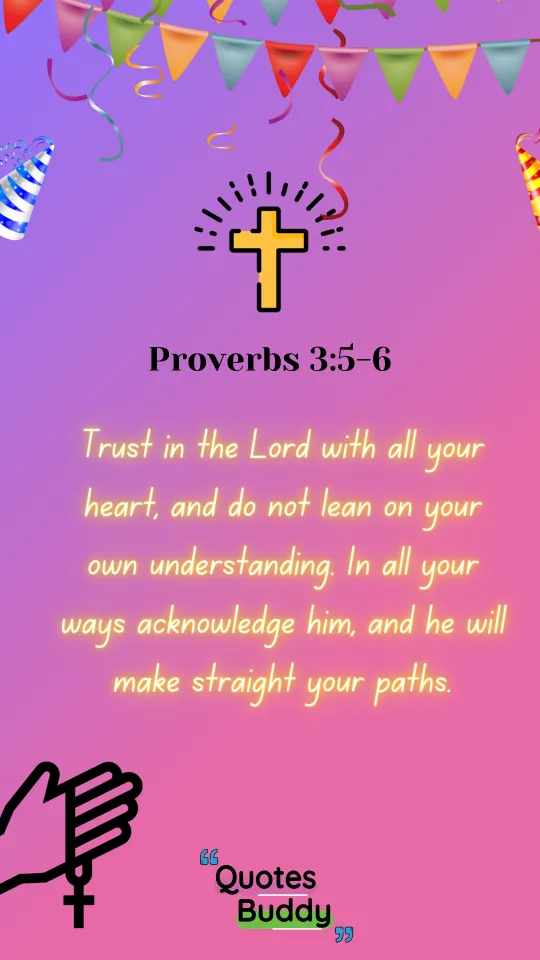 10. Proverbs 3:5-6
Trust in the Lord with all your heart, and do not lean on your own understanding. In all your ways acknowledge him, and he will make straight your paths.
This verse encourages all to not lean on what you know but to lean on God. It can be a good reminder for on a birthday to lean into the Lord, and trust in the Lord.
I took all passages from the New International Version (NIV) of the Bible.
Catholic birthday blessing
What is a Catholic prayer of blessing?
Here are 10 best catholic birthday blessing. Use these birthday prayer messages for friend and family.
birthday prayer wishes are the best way to express God's blessing, as well as a great opportunity to thank you, God, for another birthday.
For the Birthday of a family member
Heavenly Father, We praise You for all Your gifts to us. In a special way, We thank You for (name). Bless him (her) always in Your love.
Bless us too, Holy Father, And this food with which we celebrate. Help us all to praise You and give You glory Through Jesus Christ our lord.
Amen.
God our Father,
the birth of your Son Jesus Christ
brought great joy to Mary and Joseph.
We give thanks to you for name whose birthday we celebrate
today.
May he/she ever grow in your faith, hope, and love.
We ask this in the name of our Lord Jesus Christ.
Amen.
Birthday prayers for friend
What is the best birthday prayer for a friend?
Here are 10 best birthday prayers to a friend. Use these birthday prayers verses for friend.
thanks to God for a special friend on their birthday and for all the comfort and joy they bring to your life.
this beautiful birthday prayer and blessing for friends, boyfriends, and girlfriends or female friend.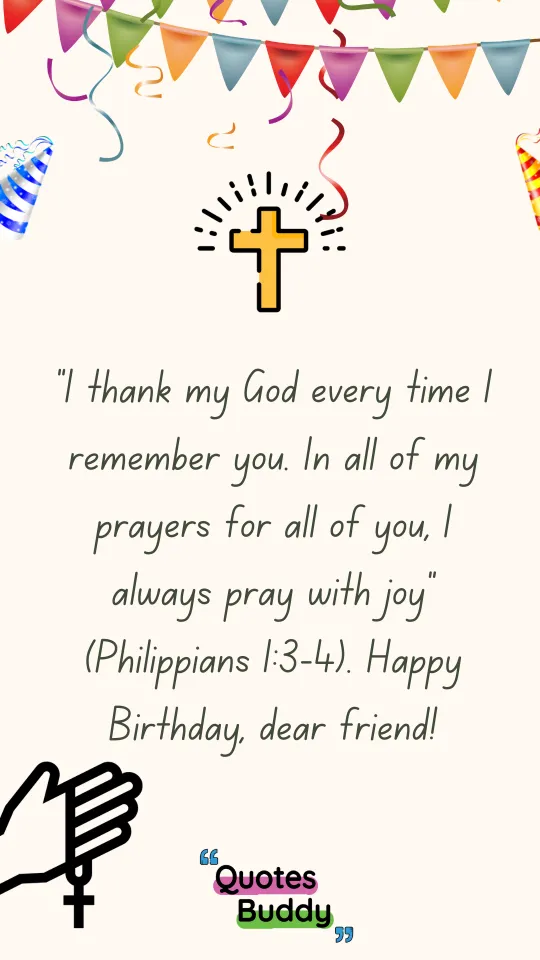 "I thank my God every time I remember you. In all of my prayers for all of you, I always pray with joy" (Philippians 1:3-4). Happy Birthday, dear friend!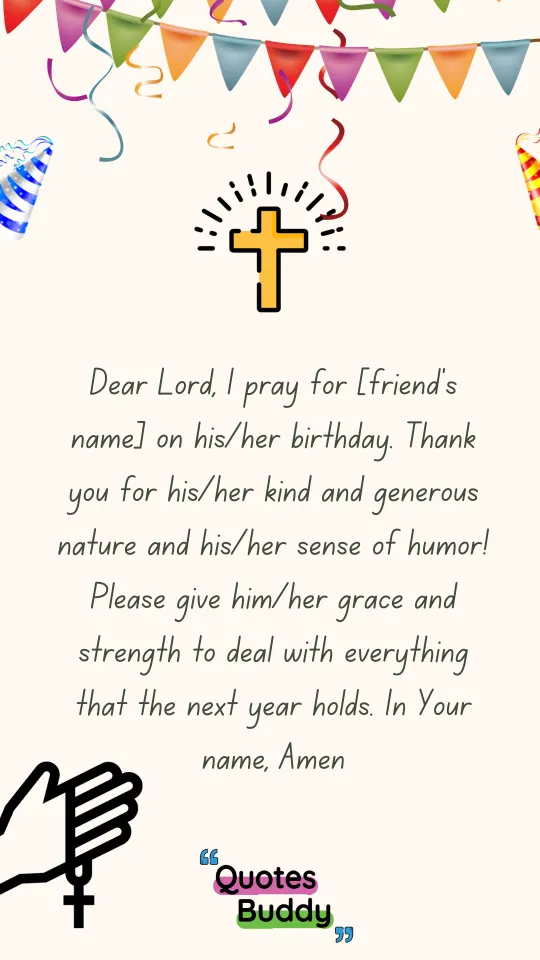 Dear Lord, I pray for [friend's name] on his/her birthday. Thank you for his/her kind and generous nature and his/her sense of humor! Please give him/her grace and strength to deal with everything that the next year holds. In Your name, Amen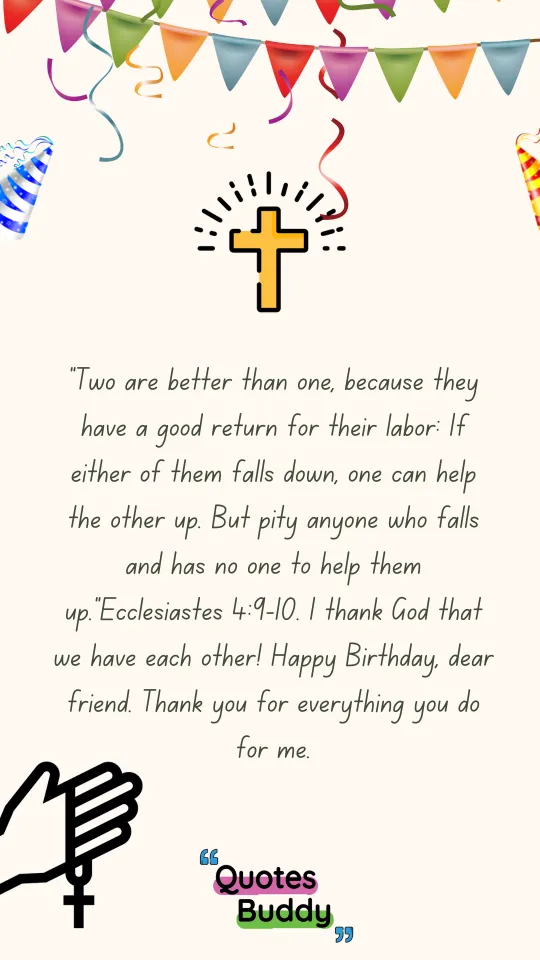 "Two are better than one, because they have a good return for their labor: If either of them falls down, one can help the other up. But pity anyone who falls and has no one to help them up."Ecclesiastes 4:9-10. I thank God that we have each other! Happy Birthday, dear friend. Thank you for everything you do for me.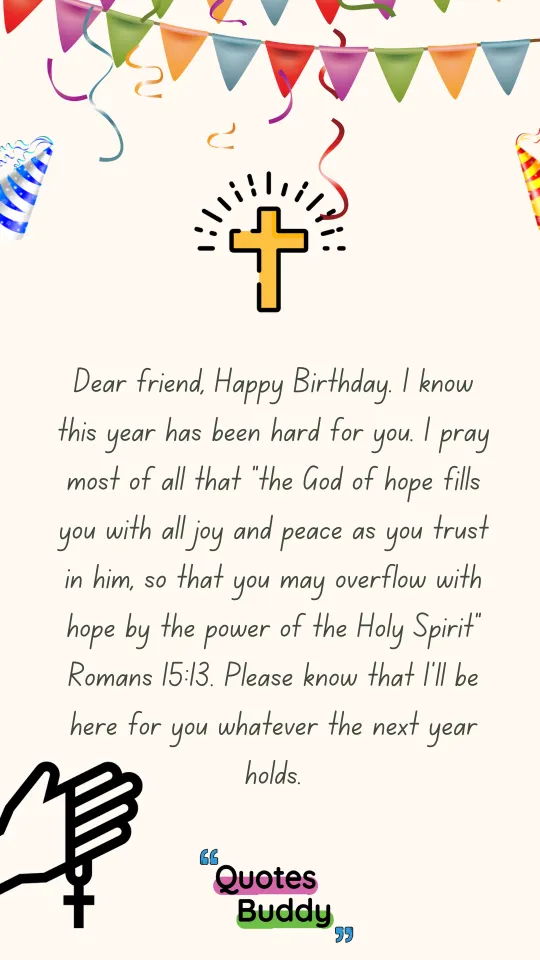 Dear friend, Happy Birthday. I know this year has been hard for you. I pray most of all that "the God of hope fills you with all joy and peace as you trust in him, so that you may overflow with hope by the power of the Holy Spirit" Romans 15:13. Please know that I'll be here for you whatever the next year holds.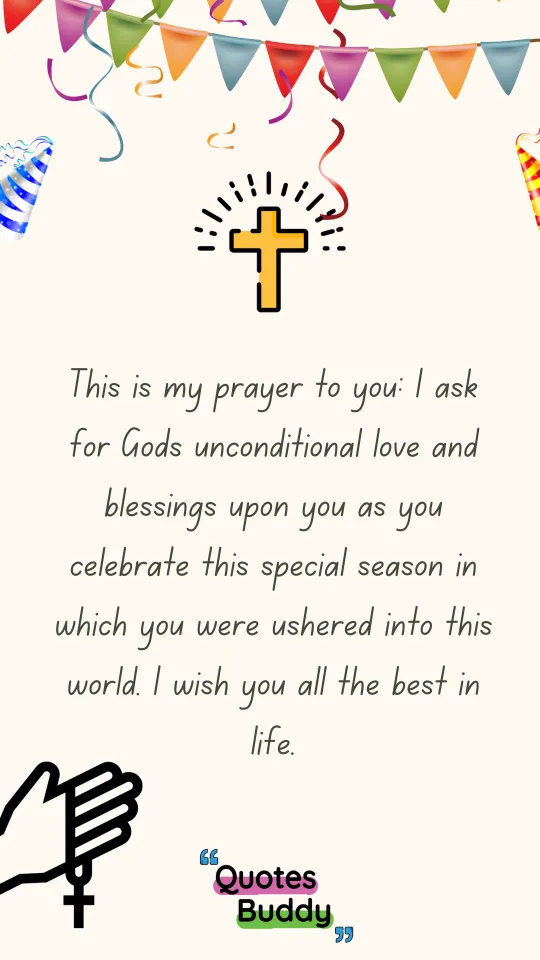 This is my prayer to you: I ask for Gods unconditional love and blessings upon you as you celebrate this special season in which you were ushered into this world. I wish you all the best in life.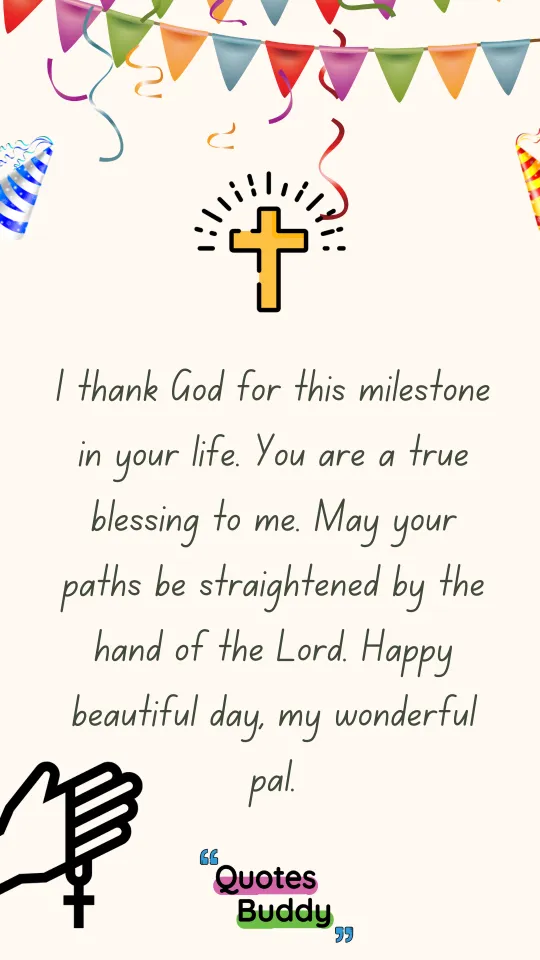 I thank God for this milestone in your life. You are a true blessing to me. May the hand of the Lord straighten your paths. Happy beautiful day, my wonderful pal.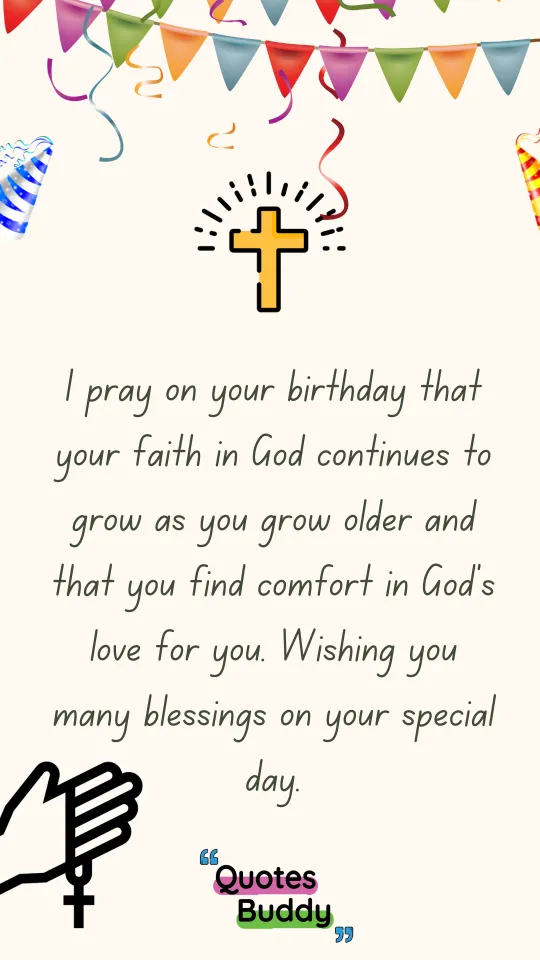 I pray on your birthday that your faith in God continues to grow as you grow older and that you find comfort in God's love for you. Wishing you many blessings on your special day.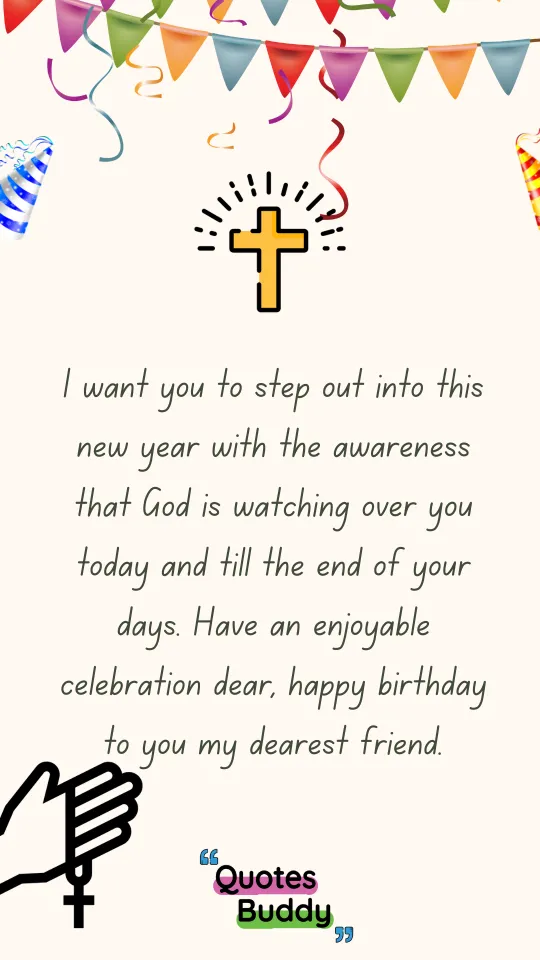 I want you to step out into this new year with the awareness that God is watching over you today and till the end of your days. Have an enjoyable celebration dear, happy birthday to you my dearest friend.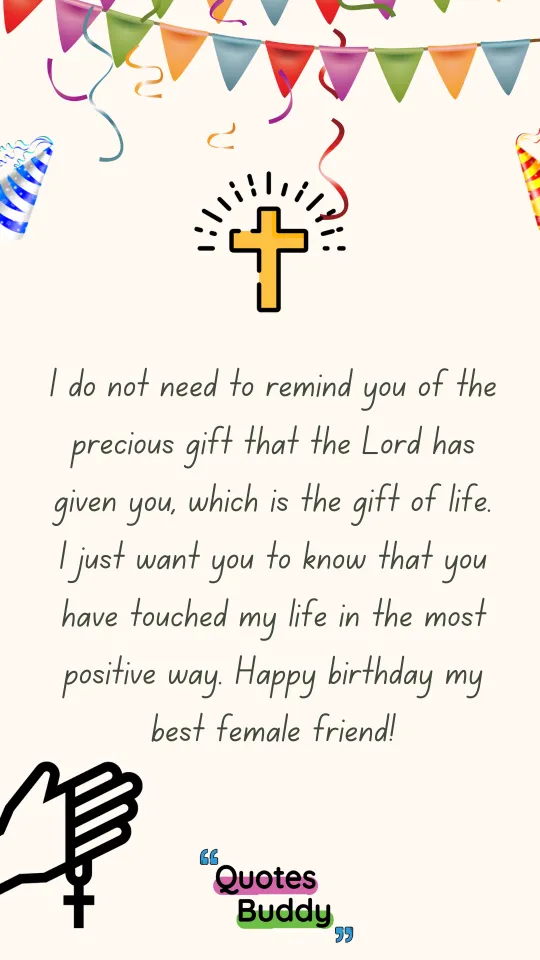 I do not need to remind you of the precious gift that the Lord has given you, which is the gift of life. I just want you to know that you have touched my life in the most positive way. Happy birthday my best female friend!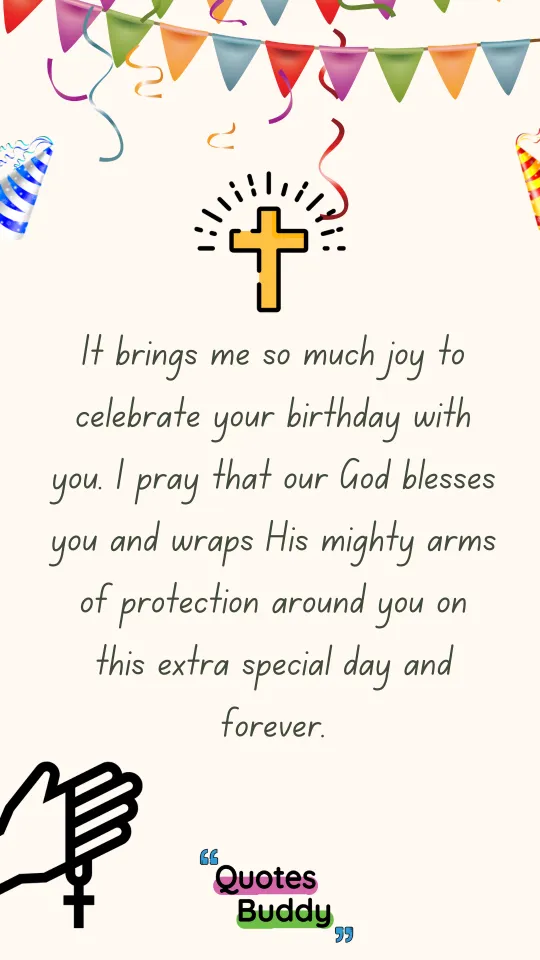 It brings me so much joy to celebrate your birthday with you. I pray that our God blesses you and wraps His mighty arms of protection around you on this extra special day and forever.
Birthday prayers for myself
Birthday prayers for myself are so great opportunity to thank you, God, for another birthday.
Here are some 'thankful for another birthday' quotes, messages, and prayers for your special day.
God, you gave me a life that day I was born, and I hope I will spend all my life and do as much as I can to show you my love and gratitude!
Through all these years, God, I feel your love and care. I hope that today you look at me and feel my love.
I have become wiser, and now I know that was a part of a miracle done by you, God. Bless me and let me live happily, feeling your love and care.
Glory to you, my Lord. Praise for all miracles you have shown in my life. On my birthday, I pray to you and ask you to forgive me all my sins. Amen!
Dear Lord, please draw me closer to Your mighty presence and bless all my days. Amen.
God, all I ask from you on my birthday is that you give me the ability and strength to love and serve you faithfully, come what may.
On this special day, I thank God for His remarkable blessings in my world and pray that He will continue to protect me from the eyes and plans of my enemies.
Lord, please keep sadness away from my heart and worries from my mind. Bless me with a life of happiness, good health and good fortune. Happy birthday to me!
On this extraordinary day in my life, it is my prayer that the merciful Lord will shower me with His divine blessings and give me the gift of long life.
Sweet Jesus, it's my prayer that your immeasurable love will shine in my life and guide my path for as long as I live on this earth.
Birthday prayer messages for my love
What can I say to my boyfriend on his birthday?
these beautifully written happy birthday prayers and wishes for my boyfriend will let him know just how much you are rooting for him and his progress!
Birthday prayers for him (boyfriend)
Happy birthday to you, my dear. I pray that God's light will shine on your path, and lead you to success after success.
The blessings of God will your portion in this special day of yours. The future will bow down for you because the signature of God is already on your tomorrow. You are blessed today and forever. Happy birthday to you. Keep enjoying the grace of God.
Let me use this amazing opportunity to welcome you to another amazing 365 days of your life. You will continue to grow in the grace of God, in power, strength and grace. You will be lifted high above all the earth and God will place his hands on everything you do. Have a great birthday, God is with you and for you.
You have been a source of happiness to me, my world and I pray to God almighty never to take away your happiness from you. I pray that joy and success will never depart from your life.
As you grow older, I pray you to wax stronger even in health, wisdom and understanding. Age gracefully, love. Happy birthday.
May the divine protection of God, never leave you, today and forever. Happier birthday, handsome.
Every ray of sun will be declared as the golden grace of God on your life. You will be decorated with grace so much that you will encounter success, prosperity, greatness and everlasting peace in your life. You will be a living testimony of the grace of God in everything you do. The glory of God will never depart from your life. You are a son/ daughter of grace. Happy birthday dear
It is your joyful moment, let thank God and celebrate, you will live longer under the beautiful care of our Lord. All your sorrows will turn to happiness for you. Happy birthday my dearest.
Happy birthday to the king of my heart, may live longer in good health and in happiness, I love you so much.
The hands of God will touch with favour, you will be successful in everything you lay your hands on. God will bless you from this day henceforth. You days will be blessed from today henceforth. It is your birthday dear. Rise and shine, God is with you already.
Final thought
Bible Verses for birthday prayers and wishes can be a great way to express God's blessing, as well as a great opportunity to thank you, God, for another birthday and develop your intellectual writing skills.
We can use this birthday prayer and blessing from bible in a variety of ways, including texts, cards, letters, emails, presents and notes, social media postings, and other places.
Share thankful birthday messages to God to the sacred people as words.
thanking God for another birthday by not only giving gifts and throwing a grand party but also by sending Good saying or blessing.
Latest posts by Roshan Sharma
(see all)